AwareABIS
Full range biometric solutions are now available in the cloud.
AwareABIS allows law enforcement agencies to subscribe to the best in cloud-based biometric solutions.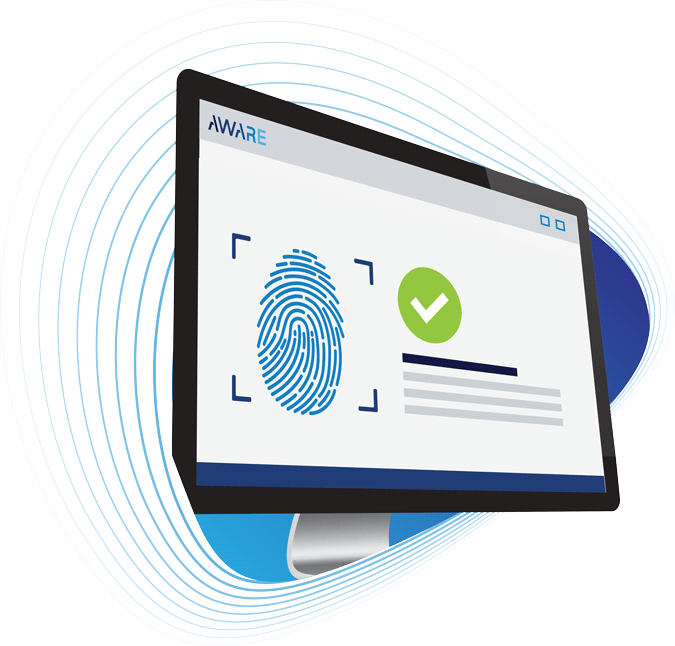 Aware offers a complete family of ABIS products for any sized civil or law enforcement community. From small, customized solutions to large-scale enterprise implementations, Aware's ABIS offerings are aligned to virtually any customer need.
Large-scale biometric identification
The AwareABIS™ Automated Biometric Identification System (ABIS) supports fingerprint, face, and iris recognition for large-scale biometric identification. Designed to serve between 1-30 million identities or more, its modular architecture helps security teams configure and optimize the system for civil or criminal applications.
AwareABIS is based on BioSP™ (Biometric Services Platform), Aware's market-leading workflow and integration server. AwareABIS supports the NIST-tested Nexa™ face, fingerprint, and iris matching algorithms, as well as fingerprint algorithms from third-party providers. AwareABIS also works with Astra™, an advanced cluster computing platform, to provide biometric record searching.
Small-scale biometric identification
AFIX Tracker supports fingerprint, palmprint, face and latent print identification for small-scale biometric identification. Designed to serve between 15,000 and 2 million identities, AFIX Tracker is ideal for crime scene investigation applications in low to moderate sized community populations.
AFIX Tracker provides minutiae-based search capability and can be configured as either a standalone system, or for use with centralized, server-based data stores. Its storage and search capabilities are fully scalable to enable use with a wide array of database sizes.
Plug-in biometric identification
Aware's Astra provides the speed and accuracy of AwareABIS as a plug-in for existing business processes and workflows. Scalable, fault tolerant and configurable, the Astra matching subsystem is ideal for adding high speed and accurate finger, face, iris and voice verification and identification into existing solution offerings.
Astra's highly scalable platform can be used for large-scale biometric identification and deduplication. It can perform one-to-many search or one-to-one match against large stores of biometrics and other identity data. It does so by deploying biometric data and matching algorithms across a cluster of multiple computing nodes.
AwareABIS system features include:
Flexible configuration
Owing to its flexible modular architecture, organizations can configure AwareABIS for either civil or criminal applications. Configured for civil applications, AwareABIS provides biometric search functions through its open APIs. The rich functionality provided through Aware's client applications power a range of tasks, everything from healthcare to human resources. Organizations can also use custom applications to meet specific functional requirements.

Configured for criminal applications, AwareABIS provides all the functions available in its civil configuration, but adds additional capabilities that are critical for law enforcement use cases, including:
Want to learn more?
Schedule a demo to get started today
Resources
Stay in the loop of all things biometrics by visiting our resource center.